ATM
Banks view ATM as a way to increase their contact with existing customers, enhance opportunities for cross-selling, and meet the convenience needs of time-challenged clients. Touch Monitor is the most natural interface for a public access system like a bank ATM. It enables the use of multifunctional ATMs that provide extra services and information.
ATM touch monitors are available with a host of touch technologies. Surface wave touch screen is the most widely used touch technology for ATM applications, which provide the superior optical and image quality along with resistance to scratches, breakage and vandalism. And Infrared touch screen technology is the best choice for outdoor ATMs that may be exposed to harsh weather conditions and may require the combination of watertight sealing, optical performance and vandal resistance. Also, Infrared technology can be provided with several custom options including tempered glass, laminated bullet proof glass, privacy filters, and more.
For ATM machine, intelligent security, low failure rate and durability are very important. The users could go to do self-service transact at any time, so the ATM machine must keep working all the time for 24 hours 'running.
To meet market's requirements, APLUS have developed the industrial touchscreen LCD monitors from 8.4" to 15 ", which are easy to be installed and maintained. They can work continuously and steadily for 24 hours' a day, 7 days a week and years, even in the harsh environment and support wide operating temperature.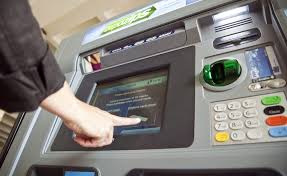 Features
●SAW, Scap, Pcap, Resistive, IR touch optional.
●Wide temperature, operation temperature -20℃~80℃.
●Low power consumption, high efficiency, Lifetime 50000 hours.
●Sunlight Readable High Brightness optional
Recommended Products
AP-08OPLHT1R1, AP-08OPLDN1, AP-10OPLHT1R1,AP-12OPLHT2, AP-15OPLHT1R, AP-17OPLHT1R, AP-19OPLHT1R