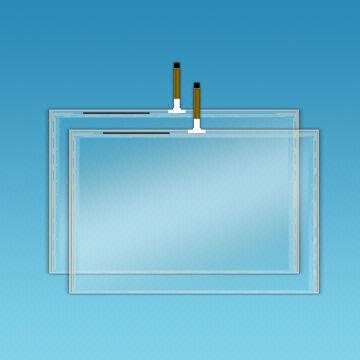 5 Wire Resistive Tocuh screen
Main Features:
●5 Wire Resistive Touch Panel with USB and RS232 Touch Interface
●6.4'',7'',8.4''9.7'',10.4'',12.1'',13.3'',15'',15.6'',17'',19'',21.5'',22'' Size Available
●Ordinary Glass and Tempered Glass Resistive Touch screen available
●Screen Size from 1.8''~22''
●Drift free, Deviation of Error below 1.5%, suitable for the operation

Introduction & Specifications
5 Wire Resistive Touchscreens
Aplus Display offer 5-wire analog resistive touch screens are designed for extreme and high-use environments, and features superior durability, resolution, accuracy and positioning speed.
With 5Wire Resistive Touch Screen Technology, users get an increase in reliability and durability. It is a durable and accurate technology that is widely used in demanding workplace applications such as point-of-sale systems, industrial controls, and medical systems.
Advantages:
1. More durable than 4-Wire Resistive technology,drift-free operation even when exposed to temperature fluctuation
2. Life span of 35,000,000 touches versus 1,000,000 touches from 4-wire resistive
3. Consistently accurate, faster response time
4. Pressure sensitive, works with any stylus, finger, gloved hand and stylus activation
5. Not affected by dirt, dust, water, or light
6. Anti glare surface treatment
7. Available in 1.8"- 21" models (customer size welcome)
Disadvantages:
1. 75 % clarity
2. Resistive layers can be damaged by a sharp object Common
Applications:
POS terminals
Financial - ATM & Bill Pay Kiosks
Factory Automation
Industrial Control
Medical Equipment
Retail Kiosks
Touch screen Specifications

Touch Type:

5-Wire Resistive touch screen

Screen Sizes:

1.8"-21" Diagonal

Cable Interface:

PC Serial/COM Port or USB Port

Touch Resolution:

4096x4096

Response Time:

10 ms. maximum

Activation Force:

10-100 grams per square centimeter

Positional Accuracy:

3mm maximum error

Light Transmission:

Film +Glass>83%

Linearity:

Under 1.5%

Scratch Resistance:

3H pencil hardness

Supply Power:

Current Voltage: DC5V, 5mA-25mA

Insulation Resistance: Over 20MΩ at 25V

Operation Pressure:

15 ~ 70g

Life Expectancy:

Hitting Life Expectancy: Over 35 million

Scoring Life Expectancy: Over 5 million

Temperature:

Operating Temperature: -10 °C ~+60 °C
Storage Temperature: -20 °C ~ +70 °C

Humidity:

Operating Temperature: Less than 90%RH (no condensation)
Storage Temperature: Less than 95%RH (no condensation)

Choices of Glass

Thickness: 0. 7mm, 1.1mm, 2.0mm, 3.0mm,5.5mm, Normal Glass, Chemically strengthened glass

Chemical Resistance:

Alcohol, acetone, grease, and general household detergent
More Products