Career In Aplus - Expertise Enhancement
Aplus has been adhering to the tenet of "Continuous Learning", and has built up a complete internal training system. A matrix-type training mode with expertise longitudinally and management skills and knowledge improvement horizontally based on the job requirements and development paths for the employee of different positions and levels has been constructed. Therefore, the internal and external training resources can be effectively integrated to strengthen training effects through such new training methods as table simulation, role play, case discussion and experience-oriented learning.
To inherit the excellent corporate culture, Aplus has set up a standard internal trainer team with hundreds of experienced and professional lecturers through TTT training, aiming to fully tap the internal potential and realize the inheritance of knowledge and skills.
New Employees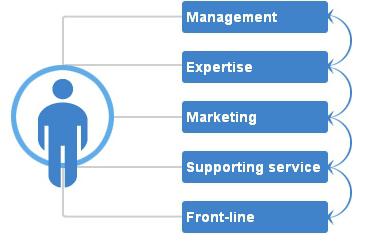 Aplus sets up a career development system including 5 major career series, i.e. management, expertise, marketing, supporting service and production, 15 career grades and 39 career levels. We adopt H-shaped career path design, and different career series may be changed without limitation to job rotation and promotion according to the Company's demand, the employee's characteristics, and performance status. Every career category is classified into five levels from high to low, including expert level, senior level, middle level, assistant level, clerk level. Every employee can also select their ideal development path in consideration of their individual characteristics, job interest and specialty, and seek for personal development by means of testing, position competition, job rotation, etcs.
Career In Aplus - Expertise EnhancemeAplus's Talent Concepts
We consider people as the most valuable treasure for the enterprise's development. Our talent team is built on the following three bases:
First, the long-term strategy serving for the Company;
Second, the creation and innovation serving for the company's sustainable development;
Third, the career development serving for the employees.
We dedicate to establishing a mechanism for talent selection, cultivation, deployment and retaining to advocate fair competition, self motivation, self-discipline and enable the excellent performer stand out above the rest, thus to inspire employees' potential to the greatest extent and promote the common growth of of both Aplus and the employees.
Check available job in APLUS,pls contact info@apluslcd.com