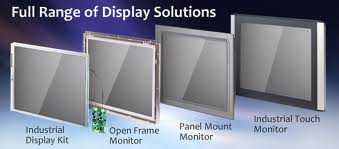 CUSTOM LCD MONITOR
With years professional experience in industrial LCD display, strong R&D teamwork and excellent quality control system, we are available to delivering fully customized LCD Display solution for our customers in the shortest time.
Our strength lies in understanding and meeting our customers' exact requirements coupled with Aplus's comprehensive manufacturing capabilities and expertise to deliver the right LCD display solution. Let APLUS be your total Embedded Industrial Display solution provider.
STEP 1: Choose Screen Size
●Small
3.5'',5.6'',5.7'',6.5'', 7''.8.4''.9.7''
●Medium
10.4'', 12.1'', 15'', 17'', 19'' (4:3 aspect)
10.1'', 12.1'', 15.6'', 17.3'', 18.5'', 21.5'',22'' (Widescreen)
●Large
24'',26'',32'',37'',42'',46'', 55'',65''

STEP 2: Choose Screen Spec
●Brightness
Available brightness from 180nits to 2000nits.
180nits, 220nits, 250nits, 280nits, 300nits, 350nits, 370nis, 400nits, 450nits, 500nits ect normal Brightness.
600nits, 700nits, 800nits, 1000nits, 1500nits, 2000nits(Large size available) etc high Brightness.
●Resolution
640x480, 800x600,1024x768, 1280x720, 1280x1027, 1680x1050, 1920x1080, 2569x1440, 2560x1600 etc.
●Viewing Angle
Wide view angle or normal view angle available.
●Contrast Ratio
400:1, 450:1, 500:1, 600:1, 800:1, 800:1, 1000:1, 4000:1, 6000:1 etc.
●Backlight
CCFL or LED Backlight
●Operating Temperature Range
Normal or Wide Operating Temperature Range available.
STEP 3: Choose Housing
●Open Frame Housing
●Panel Mount Housing
●Rack Mount Housing
●Chassis Mount Housing
●Desktop Plastic Housing
●Custom Housing
STEP 4: Mounting Solution
●Open Frame Mount
●IP65 Panel Mount
●Wall Mount
●Rack Mount
●Rear Mount
●VESA Mount
●Chassis Mount
●Desktop Mount
●Custom Mount
STEP 5: Choose I/O
●VGA
●DVI
●HDMI/HDCP
●Video in (Composite + S-Video)
●Speaker line-in
●BNC in and out
●RS232 Protocol Control
●Media Player (SD, XD, MMC, MS, USB)
STEP 6: Choose Power
●Internal or External
●12VDC
●24VDC
●110/220VAC
STEP 7: Choose Screen Overlay
●Touch Screen Overlay:Resistive;Capacitive;Surface Acoustic Wave (SAW); Optical; Projective Capacitive
●AR Protected Glass
●Vandal glass
●Anti-glare Film
●Privacy filter Film
●Protection film
STEP 8: Special Features
●Temperature Control: Heater or Cooling Fan
●Full dimming
●Splash proof
●Sunlight readable
●Weather-proof
●Special timing
●RS232 Protocol Control